Tammy Hembrow flaunts 'mum tum' after backlash for unrealistic post-partum body
A fitness influencer who was slammed for setting an unrealistic standard for new mums appears to have clapped back at critics with a revealing new bikini video.
Tammy Hembrow came under fire for flaunting her six pack and slender figure to promote her fitness app just 10 months after welcoming her third child last week.
While the 29-year-old hasn't officially commented on the backlash, she's since shared a new video that shows her grabbing at her stomach and bending over to show little flesh rolls.
Fans of the fitness star, who has almost 17 million followers on Instagram, have been quick to commend Hembrow for sharing her "mummy tummy".
"I love that you're showing all of it! Let's be proud and healthy even if our bodies are not the same," one commended.
"The reality of having a flat tummy post partum but the skin is still there," another applauded.
As one said: "Thank you for posting such a real video. Our bodies aren't meant to be perfect. Embrace all the stretch and bumps."
The reaction to Hembrow's latest video is in stark contrast to the heat she received on Friday after sharing a "before and after" transformation snap.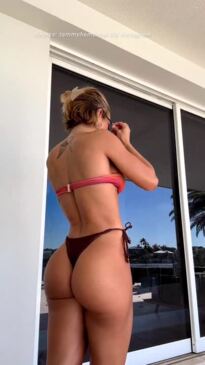 One image showed the hugely popular influencer at nine months pregnant while the second was a snap of herself 10 months post-partum.
In the most recent photo, she stood on an angle and held her oversized shirt up to show her tiny waist and chiselled ab muscles.
She claimed her post-baby physique was down to using the eating and fitness programs in her TammyFit app in conjunction with pilates which wasn't on the platform just yet.
Hembrow claimed she ate "a lot" including mostly "whole healthy foods" during the week and "treats" on the weekends.
While she made sure to include a disclaimer stating she was "not saying you should aim to look like this" and "feeling strong is the goal", many of her followers were not impressed.
"I'm in no way hating at all cause I think your fire … but I just can't help but think this is the wrong message to send to new mums who think they must get back to looking like this or to work out straight away. Your body is still healing mentally and physically," one follower responded.
Another comment that received more than 300 likes simply read: "It is also OK if you do not look like this after having a baby".
Others felt it was the access Hembrow had to expensive luxuries that made it easier for her to maintain a fit physique.
"If you have a chef, personal trainer, nutritionist and are wealthy, it's super easy to get to this. Anyone seeing this feeling like it's unrealistic don't worry, we are all on our own pace in this journey, we will get there," a fellow mum wrote in a comment.
Another mum expressed feeling like it was "impossible" to "stay lean" while breastfeeding.
"How do you stay lean while breastfeeding? I feel like it's impossible because of the high prolactin levels causing us to store fat," she wrote.
While someone went as far as to accuse Hembrow of deceiving her followers.
"You either had to go into calorie deficit (which you said you didn't), take the trending weight loss medication or get liposuction done," they wrote.
Despite the controversy surrounding her "transformation" photo, many fans still thanked Hembrow for being an inspiration.
"You are amazing Tammy! A reflection on how powerful the female body is and how strong YOU are mentally! Keep motivating us babe," one said.
Hembrow copped similar criticism after sharing a string of sizzling bikini snaps 10 weeks after having her third baby, writing she was "slowly getting back to the gym".
Related Posts